Roofr
¿Qué es Roofr?
Roofr ofrece informes precisos de medición de tejados por 10 $ con entrega en el día. El usuario también puede realizar la medición por sí mismo usando el software gratuito. Cada informe incluye 6
Leer más
páginas que describen el área total, la parcela y el perímetro (incluidos costados, crestas, valles, aislamientos y más). Sin tarifas mensuales ni costes agregados. El primer informe es gratis.
Mostrar menos
¿Quién usa Roofr?
Contratistas de tejados: informes de medición de tejados por 10 $ con entrega en el día y software gratuito para mediciones propias. Todos los informes son precisos e incluyen todas las partes del tejado. Sin tarifas. Usuarios ilimitados.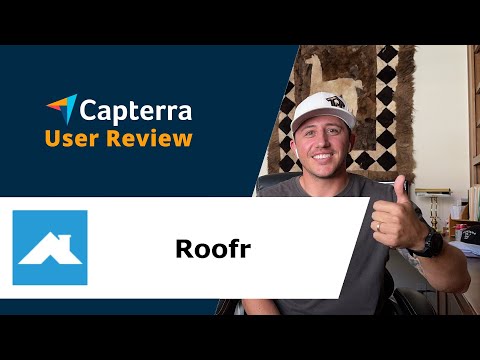 ¿No estás seguro sobre Roofr? Compara con una alternativa popular
Versión gratuita
Prueba gratuita
No se han encontrado integraciones
Versión gratuita
Prueba gratuita
No se han encontrado integraciones
¿Por qué estoy viendo esto?
Nicholas
President en EE. UU.
Construcción, 11-50 empleados
Ha utilizado el software durante: Prueba gratis
Alternativas consideradas:
Pleasantly Surprised - Understatement of 2020
Comentarios: Our business is predicated on the fact that we are precise in every measurement we make, and thus, are able to competitively provide solutions to our clients which are priced according to the market we serve. Without being thorough, replete in our ability to heavily rely upon the technologies which guide our proposal process, we would not maintain the trust we have with our clients. Roofr allows such precision, as it is embedded in their product stem to stern.
Puntos a favor:
We have relied heavily upon a software we've used for years, and until switching to Roofr, never had the need to look elsewhere. A friend of mine whose company also switched to Roofr recommended it to us, and I should be paying him for his recommendation. Not only is Roofr incredibly intuitive technology, it is also patterned in the same fashion as other, much more highly priced technologies, which pale in comparison to what Roofr provides.
Contras:
From everything we've seen thus far, I honestly can't recount any cons.
ERIC
Storm and Estimating Specialist en EE. UU.
Construcción, 11-50 empleados
Ha utilizado el software durante: Más de dos años
good product
Comentarios: has been great
Puntos a favor:
cost. measurements are as good if not better than the others, even measuring on the free platform. I sketched a 70 square, 7/12 roof, very cut up, we ordered 8% waste and short one bundle. that's pretty damn accurate for free . easy to use...
Contras:
you need 2 more measurements on on your report so we don't have to add numbers up.. hip + ridge measurement line, so we can look at quick divide by bundle coverage. rake + eve measurement, I dont have to add 2 numbers to get drip edge meausrement (EV has this) quit marking out skylights, chimneys and off ridge vents. just count as part of shingle area. roofer gets shorted if they do'nt take out, no insurance company that you work with takes them out.
Christopher
Owner en EE. UU.
Construcción, 11-50 empleados
Ha utilizado el software durante: Más de dos años
Buyer Beware
Comentarios: Initially this seemed to be a quick and economical solution to gathering project information. $10 reports were a no brainer and I could easily overlook the obvious misinformation including incorrect pitches, flat out wrong measurements, and a material list so wrong you would loose your entire profit margin. Actually each time I had an issue they were happy to make adjustments, but for $10($now $15) no biggie. Fast forward to large projects: Multifamily/multi building projects, each report is issued as the original address used to find the property with no ability to change the project name or add address for multiple buildings. I do like that they give you a summary report of the project with individual buildings. Almost all of our transactions have been on our Iphone even though they do not have an app and definitely are not optimized for mobile use. Tried to use their other features such as proposals and somehow signed up for a $90 per month plan, that is useless by the way, and immediately tried to get costumer service to cancel it to no avail. Plans started coming back as 2D garbage with no useable information and still charged to our account(one would be understandable, but 20!) Costumer service was not helpful we couldn't call them to speak in person, then they told us Canada was having internet "issues" ( I call BS), finally someone called me but only to walk me through their services and use their product some "DEMO" they constantly shove down your throat.
Puntos a favor:
Price, turnaround time, and convenience. If you want economical "close" measurements of a roof use it, but check the measurement before bidding because you might (and I have) take a bath! FYI Their "proprietary" measurement system is google street view so if there is none you get a crappy useless 2D picture from google earth
Contras:
not optimized for mobile use, price increased 50% after we started using it more regularly, costumer service has a coverall approach to every issue (3 free credits), Measurements are regularly incorrect, roof pitches are regularly incorrect (which is a big deal when the difference between 7/12 and 9/12 is $25 per square). Site use is cumbersome and in the end unusable to the vast majority of contractors.
Susan
Owner/Office Manager en EE. UU.
Construcción, 2-10 empleados
Ha utilizado el software durante: 1-5 meses
Alternativas consideradas:
Easy to use and great price
Comentarios: Roofr has made estimating easier and faster. Roofr helps cuts down on human error.
Puntos a favor:
Measuring the specific building is so helpful.
Contras:
Operator error is pretty easy to log in to the homeowner portion of Roofr rather than the contractor portion.
Construcción, Trabajador autónomo
Ha utilizado el software durante: 1-5 meses
Roofr - roof measurements
Puntos a favor:
This has been a great tool for me to use on site with my customers. It allows me to get an estimate to my potential customers while on site or within 1 hour from the appointment. In some cases I have the estimate ready before I arrive because of the availability of images for that property that are available to me through the Roofr site. Also, I can measure the roof on site from my drone pictures taken while I'm inspecting the property. This is very helpful when no satellite images are available because google earth or a like image provider don't have available images for that property to measure the roof. I have referred Roofr to my Roofing suppliers and all my Roofing colleagues in roofing industry. I am VERY happy with this program!
Contras:
Just a suggestion: I wish we could added more detail items to the measurements. Such as pipe jacks, exhaust vents, dryer vents/turtle vents, satellite dishes, skylights, or any accessories and through the roof vents to each slope just like adding the pitch, 1 / 2nd story, and layer amount notes.